NEWSFLASH: School closure further extended until September to support efforts to contain the spread of Covid-19.
Refer to Department of Education and Skills for any updates: https://www.education.ie/en/
Suggested work for children to complete at home during this extended closure: June 15-26th.
As this is the month where we would usually be holding Sports Day, school tours, outdoor activities and 6th class history cycle, we have reduced the work load further to enable children to spend more time outdoors, in a safe and responsible manner.

Hi all,
Well done to everyone for all your hard work during the last number of weeks. Many of you have sent pictures of work, projects and other activities you have been doing during the closure. They can be seen on our website:
https://tiermohanns.ie/gallery-gealarai-latest-pics-open-day-june-1st-green-and-active-flag-raising/
At this stage of the year, we would usually have some fun activities in school, such as sports day, 6th class history cycle, volleyball match with staff and much more.
For the last two weeks, we have decided to suggest activities which are both educational and fun. We hope you enjoy them and have some fun.
We will be in touch again before the summer holidays.
History ideas
https://www.britishmuseum.org/visit/family-visits   (The Egyptian galleries in particular are interesting)
https://www.youtube.com/watch?v=8eVzvWWBnV0 (An excellent virtual reality tour of the Titanic)
https://www.annefrank.org/en/anne-frank/secret-annex/entrance/ (A virtual tour of Anne Frank's house)
Active ideas
Virtual Sports Day Ideas/ Tutorial Videos:
https://stpetersschoolraunds.co.uk/pupils/virtual-sports-day-2020
https://www.staloysiuslisburn.org.uk/virtual-sports-day-2020/
Science ideas
NASA videos include the Mars Rover, spacewalks, Apollo 13 and many more.
https://www.nasa.gov/multimedia/videogallery/index.html
Virtual zoo tours that the children can go onto and look at different videos of the animals, play games and watch live cam. 
Dublin Zoo
https://www.dublinzoo.ie/virtual-tours-2/
San Diego Zoo.
Chester Zoo
https://www.chesterzoo.org/virtual-zoo-2/
Drama activities: 
https://gaietyschool.com/home-resources/
https://www.paviliontheatre.ie/events/view/project-puppet
https://www.cft.org.uk/beauty-and-the-beast-broadcast
Ideas for younger children
https://www.topmarks.co.uk/Search.aspx?Subject=37
https://www.starfall.com/h/index-grades123.php
Here are Maths answers for the past two weeks:
6th Class
Busy at Maths answers June 2-12 6th
5th Class
Busy at Maths answers June 2-12 5th
4th Class
Busy at Maths answers June 2-12 4th
3rd Class Ms Milner
Busy at Maths answers June 2-12 3rd
3rd Class Mr Fleming
Busy at Maths answers June 2-12 3rd
Some of you are completing quizzes on our Accelerated Reading system, which is wonderful. Please remember that you must use this exact URL to access your records:
https://ukhosted68.renlearn.co.uk/6935225/default.aspx
Your initial password is PASSWORD. You will be prompted to create a new password.
Here are another three websites some parents and teachers have recommended.
A general collection of useful sites: https://padlet.com/parteensolosinging/zfdq5n59llog
A site with ideas for a workout at home: https://www.youtube.com/playlist?list=PLyCLoPd4VxBvQafyve889qVcPxYEjdSTl
Finally, an online music programme:
https://dabbledoomusic.com/p/parents-subscription-full-access?utm_campaign=Parents%20Campaign%202020&utm_source=hs_email&utm_medium=email&utm_content=86502988&_hsenc=p2ANqtz-_HjvThsUTh98Bswu6rKfAqjYng56E12GAKXZuVmWD8boVq65aLoTClfUCzuSKimMnih4IGSR6GuitHhkW2KzUJMQZd1Q&_hsmi=86502988
Tiermohan National School is situated in rural Kildare. We are situated approx. 5 km from Kilcock, 10 km from Clane near the beautiful Donadea Forest. The present school was built in 1962, with some additions since then, but there was a school on this site dating back to around 1796.
The school is co-educational, under the patronage of the Catholic Bishop of Kildare and Leighlin, and caters for children from Junior Infants to 6th.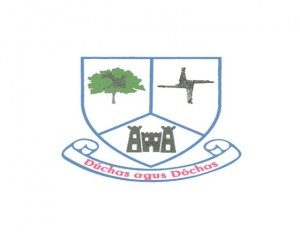 This crest incorporates St Brigid's Cross symbolising our Christian heritage, the castle symbolising Donadea Castle and the tree symbolising the beauty of nature around us in the countryside.
Registered charity number: 20201420